With Microsoft ending support for Internet Explorer in 2022, Microsoft needed to develop a new web browser—one that is faster, efficient, offered compatibility for legacy IE sites and apps ("Internet Explorer Mode"), and offered portability. As a result, Microsoft developed "Microsoft Edge based on Chromium" which was developed on the open-source Chromium project that created Google Chrome. According to Statcounter GlobalStats and Statista, Microsoft Edge has grown by almost 8% in the Desktop Browser Market Share in the United States from June 2020 to June 2021. This does not factor in the aspect that Microsoft Edge comes pre-installed on all Windows PCs. It only factors in the browser being used when searching the web (HTTP Request). In addition to Windows 7, 8, and 10, you can also get Chromium Edge browser for macOS, iOS, and Android.
Using Microsoft Edge based on Chromium will affect the way you work in several ways, and this article will go over three significant changes you can expect when transitioning to Microsoft Edge based on Chromium.
1) Use of Extensions—The same extensions that you use in Google Chrome can be used in Chromium Edge. Unlike MS Edge that has suffered from lack of extensions, the transition to Chromium Edge is a seamless one, providing easy downloads of the same extensions used previously in Google Chrome. If you cannot find the extensions in Microsoft's "Edge Add-ons," you have the option to access the Google Chrome Web Store and from there, you can download your extensions. This feature comes equipped with two libraries from which you may find desired extensions for productivity when working with other Microsoft 365 Products.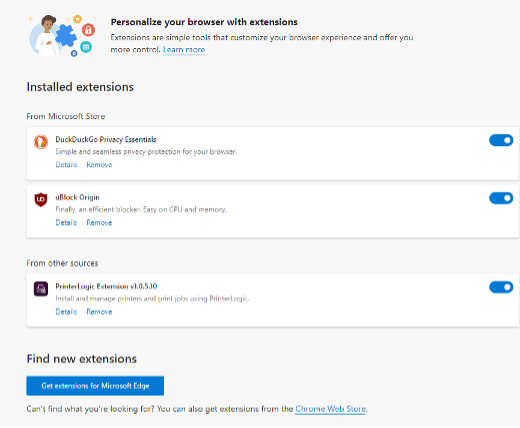 2) Increase in Productivity—Since (Microsoft) Chromium Edge is built like Google Chrome, the interface is similar thus allowing you to replicate the settings you use in Google Chrome to Chromium Edge, yielding increased productivity. You can still import Passwords, Favorites, Browsing History, and other Chrome data thereby decreasing downtime for transitioning data. Using Chromium Edge makes sense for users who have Microsoft work accounts because you no longer intertwine your personal Google account with your work account. No matter what computer you use, you can sync data between devices with your Microsoft Account, helping decrease the down time due to guessing passwords, locating frequently visited websites, or setting up new computers (https://www.microsoft.com/en-us/edge/business).
3) Multitasker-friendly—Microsoft Edge's multi-process architecture "helps improve browser security and reliability," making Microsoft Edge based on Chromium system-friendly for people who multitask. If Google Chrome crashes, the whole program must close. Conversely, when Microsoft Edge based on Chromium crashes, only the process that experiences the crash will be affected. The rest of the browser, including most other tabs, will remain stable. This, in turn, helps keep "Resource accountability." By isolating each process, the end-user can determine what is using the most resources whether it is a website, an extension, or a plug-in. Then, simply by pressing the "Shift + Esc" keys, you can open the "Browser Task Manager" and end the desired process. If you want to read about Microsoft Edge's multi-process architecture, you can read the article here: https://blogs.windows.com/msedgedev/2020/09/30/microsoft-edge-multi-process-architecture/
There are several features that make Microsoft Edge based on Chromium different and better than its predecessor (Microsoft Edge or MS Edge) for the consumer. In summary, Microsoft Edge based on Chromium is a game-changer for the Modern Office Client. Not only does the web browser allow for a user to sign in with their Microsoft Account and sync data across devices, but the web browser is efficient in its performance thus giving the user a more pleasurable experience when searching the web. If you haven't tried using Microsoft Edge based on Chromium, I would recommend you give it a shot. Transitioning from Google Chrome to Microsoft Edge is seamless, enabling you the ability to use the same extensions in Google Chrome as Microsoft Edge, import your Google Chrome profile to Microsoft Edge so you don't lose any profile history, and removing the need to have a Google account acting as a work account.
It's a win-win-win!